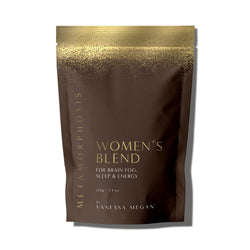 Metamorphosis | Women's Blend | For Brain Fog, Sleep & Energy
Supplement your body with this powerful blend of natural ingredients to help combat brain fog, promote a restful night's sleep and support sustained energy production in a delicious choc-berry flavour.

Loaded with schisandra and zinc for clarity of mind and cognitive function; magnesium and selenium for deeper restful sleep; calming adaptogenic ashwagandha to lower blood pressure and fight stress; flavonoid packed cacao to improve blood flow to the brain and heart; rhodiola to combat fatigue and increase physical resilience; high-calcium kale to fight bone degeneration; anti-inflammatory acerola cherry for digestive and metabolic health; enzymatic wheatgrass to aid digestion; probiotic lactospore for digestive health and powerful antioxidants beetroot, goji berry and maqui berry to protect your cells from environmental damage and encourage vascular health.
SERVING SUGGESTIONS
Blend one heaped teaspoon (7g) into purified cold water or the mylk of your choice each day.
INGREDIENTS
Maca Powder*, Cacao Powder*, Ashwagandha Powder, Green Banana Flour*, Kale Powder*, Goji Berry Powder, Acerola Cherry Powder*, Wheat Grass Powder*, Monk Fruit Powder*, Magnesium Citrate Powder, Beetroot Powder*, Maqui Berry Powder*, Schisandra Powder* Rhodiola Rosea Powder, Lactospore® Vegan Probiotic, Zinc Ascorbate Powder, Selenium Methionine Powder. *Certified Organic Ingredients