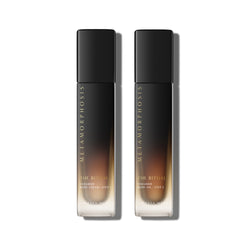 Metamorphosis | The Ritual | Body Duo - Ceramide Cream & Oil | 2x100ml
Dry skin actually results from the decreasing estrogen levels in the bloodstream at the onset of menopause. Estrogen stimulates the body's production of collagen and oils, which keep the skin naturally moisturized through most of a woman's life. Menopause decreases the abundance of ceramides in the stratum corneum. Skin cell renewal declines during this time with a lower level of sebum so skin can become dull and lack vitality if not properly looked after.
Formulated to deeply hydrate and moisturise, this potent ceramide rich duo is rich in hyaluronic acid and phytoestrogens, which have a tightening effect on skin and are vital in epidermal healing.
Phytoestrogens are a gentle and natural alternative for women looking to rebalance their hormones as they move into menopause, their small molecular size can be easily absorbed through skin and they are vital in epidermal healing to replenish and restore this skin to protect against oxidative stress and premature ageing.
Supports Elastin & Collagen Production
Rich in Ceramides
Helps Firm Sagging Skin
Increases Skin Thickness
HOW TO USE
Combine equal parts of the oil and cream and apply to the skin morning, noon or night.
INGREDIENTS
LOTION
100% Natural: Demineralised Water, Cetearyl Olivate [Olive Emulsifier], Sorbitan Olivate [Olive Emulsifier], *Helianthus Annuus [Sunflower] Oil, *Cocos Nucifera [Coconut] Oil, *Simmondsia Chinensis Seed [Jojoba] Oil, *Theobrama Cacao [Cocoa Butter], *Butyrospermum Parkii [Shea] Butter, Soy Protein, Trifolium Pratense [Red Clover] Extract, Sodium Hyaluronate [Hyaluronic Acid], Glyceryl Caprylate, *Glycerin, Xanthan Gum, *Lavandula Angustifolia [Lavender] Essential Oil, Salvia Sclarea Oil [Clary Sage], Vanilla Plantifolia [Vanilla Bean] Extract, Rosa Damascena Flower [Rose] Essential Oil. *Certified Organic Ingredients
OIL
100% Natural: *Helianthus Annuu Oil [Sunflower Oil], *Simmondsia Chinensis Seed Oil [Jojoba Oil], *Cocos Nucifera Oil [Coconut Oil], *Rosa Eglanteria Seed [Rosehip] Oil, Squalane, *Lavandula Angustifolia [Lavender] Essential Oil, Salvia Sclarea Oil [Clary Sage], Vanilla Plantifolia [Vanilla Bean] Extract, Rosa Damascena Flower [Rose] Essential Oil. *Certified Organic Ingredients