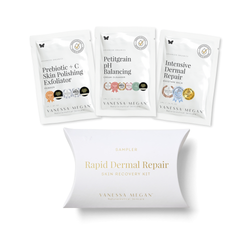 Rapid Dermal Repair Sample
Try before you buy!
Trying a sample of the Rapid Dermal Repair Skin Recovery Kit allows you to experience the benefits of the award-winning Best Pre-Post Surgical Skincare Product of 2022.
Activate deep moisture and circulation for glowing, plump, supple and dewy skin with this powerful group of products designed to help rejuvenate dull, dry and aging skin using 100% natural, organic and plant-based ingredients.
Perfect for pre and post-care of invasive treatments such as dermal needling, micro-dermabrasion, IPL and intensive peels.
Do you want the full-size instead? Buy Rapid Dermal Repair Skin Recovery Kit
Plus receive a 10% off voucher to purchase the full-size product!