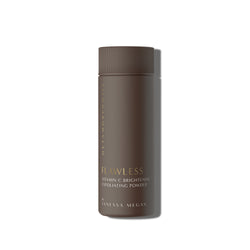 Metamorphosis | Flawless | Vitamin C Brightening Exfoliating Powder | 75g
As estrogen levels decrease during menopause, melanin levels increase. This increased production of melanin leads to hyperpigmentation, commonly known as 'melasma or brown age spots'. This is caused by a combination of hormonal changes sensitivity and sun exposure.
This powder to paste exfoliator is formulated to buff away dead skin cells, help brighten pigmentation and age spots and allow deeper penetration of serums and oils into the epidermal layer. Vitamin C is a well-known antioxidant and in skincare products it fights free radicals that cause skin ageing. Pure organic and natural actives of Yoghurt and Rice Enzymes partner with Vitamin C to gently uncover a smoother, brighter and more even complexion, revealing flawlessly radiant skin.
Removes dead skin cells for deeper product penetration
Reduces hyperpigmentation, age spots and other sun damage
Reduces fine lines and deep wrinkles
HOW TO USE
Mix powder with water to create a paste and apply to face. Exfoliate using circular motions, paying special attention to problem areas. Rinse. Close powder lid after each use. Store in a dry location away from moisture below 25°C.
INGREDIENTS
100% Natural: *Oryza Sativa [Rice] Flour, Kaolin Clay, Lactobacillus/ Streptococcus Thermophilus/Soybean Extract [Yoghurtene®] Ferment, Sodium Bicarbonate, Sodium Ascorbyl Phosphate, Citrus Paradisi [Grapefruit] Essential Oil, Lemon Scented Tea tree Oil. *Certified Organic Ingredients