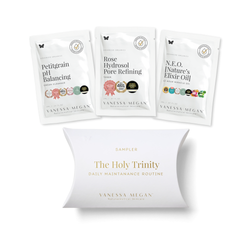 Try before you buy!
Trying a sample of the Holy Trinity daily maintenance routine allows you to experience the benefits of our best-selling skincare kit.
The Holy Trinity Daily Maintenance Routine is a trio of 100% natural beauty products designed to minimise touch points while maximising absorption of potent plant-based ingredients.
Formulated for everyone, this fast-acting system brings out your natural glow while balancing and strengthening all skin types. Case studies have proven this routine to solve skin concerns such as acne, pigmentation, rosacea, fine lines and wrinkles, and to naturally enhance normal and combination skin with lasting results.
Customers consistently report looking and feeling better without makeup after using this trio, as their skin has transformed into their true foundation.
Powered by our incredible 12-hour miracle oil, you'll see overnight why we call this routine "The Holy Trinity."
Plus receive a 10% off voucher to purchase the full-size product!